Cost of living support
We understand that the cost of living crisis is affecting many of us and we want you to know that you are not alone. You may want help accessing grants and debt advice, support getting all the money you're entitled to, or simply want to know more about the government's recent support fund. We've put together some useful information below to help you.
---
Rebates, discounts and benefits
---
Help with food costs
Foodbanks in Oxfordshire
Food banks are grassroots, community organisations aimed at supporting people who cannot afford the essentials in life. Local food banks work with referral agencies to issue food vouchers to those in need of emergency food in times of crisis.
Trussel Trust
Your local foodbank will provide advice on visiting the food bank and how to get a food voucher. Helpline: 0808 208 2138.
NHS Healthy start scheme
If you're at least ten weeks pregnant or have a child under four years old, you might be able to get free vitamins and Healthy Start vouchers for milk, fruit and vegetables and infant formula milk.
Food support services
If you are in need of support with food, or if you are looking for opportunities to reduce food waste and surplus this leaflet provides contact information for food support services across Cherwell.
---
Household Support Fund (HSF)
Oxfordshire Resident Support Scheme is the new scheme for distributing Household Support Fund to individuals and families. It has been launched to support residents in need of immediate help and who have no other source of financial support available to them.
The Resident Support Scheme will help with short-term basic living costs such as food and credit for energy prepayment meters. It can also help in some circumstances with white goods, furniture, and clothing. It is intended to meet one-off crisis or emergency need and is not designed to meet any type of on-going expenses.
---
Help for Households Campaign
Retail deals and discounts have been signed with various businesses, including Asda, Morrisons, Amazon and Vodafone and are designed to reduce costs at the checkout, help provide entertainment and ensure access to necessary services for families.
Find out how you can access help with bills, childcare, transport costs and more through the Help for Households campaign.
---
Government's Energy Support Scheme
The Government announced in December 2022 two further schemes to help certain households with the rising cost of energy.
Energy Bills Support Scheme – Alternative Funding (EBSS AF)
We are waiting for guidance on this, however, the application portal for the £400 is due to open in January on the Government's website Help for Households - Get government cost of living support.
There will be a Government helpline for those without online access.
The scheme means that households who didn't receive the original energy bills support, such as those without their own electricity meter or without a direct relationship to an electricity supplier, can receive a £400 support payment.
This might include
Care home residents and others in wholly or partly self-funded care facilities
Park home residents, houseboats and caravans with proof of address
Social and private tenants who pay for energy through a landlord on a commercial supply
Travellers
Homes on a heat network/private wire
Off-grid homes
Farmhouses used for wholly domestic purposes
There are many circumstances that might have led you to miss the original Energy Bills Support Scheme. The updated package aims to get the right support to everybody who needs it.
Those who have already benefitted in part or in full from the £400 by receiving a payment; voucher; or discount on your electricity bill of either £66 or £67 per month will not qualify.
The property must also be the household's sole or main residence.
Energy Bills Support Scheme – Alternative Fuel Payment (EBSS AFP)
If you don't heat your home with mains gas and use an alternative fuel which could include oil; coal; liquefied petroleum gas (LPG); biomass and bottled gas, you might also be able to get an additional £200 payment, known as the Alternative Fuel Payment (AFP).
The Government have confirmed that most households eligible for AFP support will receive payment automatically via their electricity supplier in February, with no further action needed.
Those households who will need to apply for the AFP, for example because they do not have a relationship with an electricity supplier, will be able to do so in February, through the same GOV.UK portal as the EBSS Alternative Funding scheme.
For customers without internet there will be a dedicated national helpline.
The Government has advised that potentially eligible households should not contact the Council until we receive further instructions on how the EBSS-AF and AFP scheme payments will be administered.
---
Better Housing, Better Health
Oxfordshire Better Housing Better Health is our partner who can provide free, impartial help and advice on energy efficiency. Contact BHBH If your household is struggling to pay fuel bills, or you want advice or information on any of the following:
Saving energy and switching energy suppliers
Things you can do to keep your home warm, dry and also reduce the cost of heating, lighting and running household appliances
Grants and discounts that may be available to help with the cost of energy efficiency improvements, including insulation
Call Better Housing Better Health on 0800 107 0044 or email bhbh@nef.org.uk.
---
Energy efficient grants and loans
Grants and loans which can help with home energy efficiency improvements:
Landlords can apply for our CHEEP grant to help improve their rented properties, provided they already meet the legal minimum energy efficiency standard.
Homeowners in receipt of certain benefits can apply for our Essential Repairs Grant which could be used to help quickly replace an old broken boiler or other main heating appliance.
Our Small Repairs Service can help homeowners and tenants aged 60 years or over with small jobs such as lagging an immersion tank or draught-proofing.
Owners of homes needing major works can apply for a Flexible Home Improvement Loan.
Warm home discount scheme
You might be able to get £140 off your electricity bill or a £140 voucher for your prepayment meter under the scheme if you're either getting the guarantee credit part of Pension Creditor on a low income.
Cold weather payment
You may be able to claim this payment if you're getting certain benefits or Support for Mortgage Interest.
Winter fuel payment
If you were born on or before 25 September 1956 you could get between £250 and £600 to help you pay your heating bills.
Home Upgrade Grant Phase 2 (HUG2)
If you are on a below-average income and your home is not heated by gas, you may be eligible for this grant to retrofit your home, improving energy efficiency and reducing your energy bills. The current schemes run until March 2025 and aims to improve poorly insulated homes for low-income residents in properties with an Energy Performance Certificate (EPC) Rating of D or below.
Government's Energy Bill Support Scheme
The government recognises that many households need support to help deal with rising energy bills. Through this scheme domestic electricity customers in Great Britain will receive a £400 grant which will appear as a credit from energy suppliers from October 2022 onwards. This will not need to be repaid.
---
Winter warmers
The Winter warmers project provides a warm meal, delivered weekly to the home through the winter period to vulnerable older residents. The meal is delivered by a team of friendly volunteers who also provide a wellbeing chat.
Warm spaces
Warm Welcome spaces are opening their doors to local communities, offering everyone a free, warm, welcoming and friendly space. Why not explore your local Warm Welcome space, it's a great place to warm up, connect with your community and to make new friends too.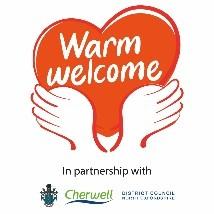 For more information please call 01295 221980 or email wellbeing@cherwell-dc.gov.uk
---
Help with your TV Licence
The Simple Payment Plan was created for those in financial difficulty. Qualifying customers can choose from either a fortnightly or monthly payment plan that spreads the cost of a TV Licence over 12 months, this means you make smaller payments more frequently, helping you to better manage your finances.
TV Licensing accepts referrals to the Simple Payment Plan from not-for-profit organisations such as charities or your local authority money advice department. It cannot accept referrals from commercial organisations.
If you would like to speak to someone about your finances, you can contact your local authority debt advice team or there are many not-for-profit organisations offering free, confidential and independent advice. Any not-for-profit organisation providing this service can refer you to us to join the Simple Payment Plan. More information on the simple payment plan and how to access it.
There are other TV licence concessions, which you might be eligible for depending on your circumstances. There are concessions available for:
---
Rent or mortgage payment support
The support available to you will depend on whether you're in receipt of Housing Benefit or Universal Credit.
Housing Benefit or Housing Cost element of Universal Credit claimants
You can apply for a Discretionary Housing Payment if the benefit doesn't cover your rent.
Private tenants (not in receipt of these benefits)
Shelter offer help on how to approach the issue with your landlord, as well as offering support if you face eviction.
Homeowners
If you're a homeowner who's unable to pay your mortgage, you should call your provider as a matter of urgency. Get in touch with Citizen's Advice who can help you to claim Support for Mortgage Interest from the government (if you're eligible) and also talk you through any legal proceedings that may arise if you're in mortgage arrears.
---
Help, advice and support
You can use an independent, free and anonymous benefits calculator to check what you could be entitled to. This will give you an estimate of:

the benefits you could get
how much your benefit payments could be
how your benefits will be affected if you start work or increase your hours
how your benefits will be affected if your circumstances change - for example, if you have a child or move in with your partner

Citizens Advice
Provides confidential support and advice to assist people with legal, debt, consumer, housing, and other problems. Here are the details for the local offices:

Banbury: Cornhill House, 26 Cornhill, Banbury, OX16 5NG. Telephone: 01295 221 448
Bicester: The Garth, Launton Road, Bicester, OX26 6PS. Telephone: 0344 411 1441
---
Mental health support
If you need to talk to someone on any topic regarding your mental health, there are local organisations that can help:
---
Cost of living tips
Energy
Remember to keep all internal doors closed
Keep your freezer full to make it more efficient, even if it's with a loaf of bread
Heat the person not the room, think about electric blankets, warm throws, or layers
Make sure the space around your radiator is clear
Descale your kettle to make it more efficient (you can use household vinegar)
Deal with draughts. Rolled up towels make good door draught excluders. Cling film for windows
Turn off appliances at the mains and always turn off lights in rooms when you're not in them
Use a tower extension – having TVs or entertainment systems plugged into a tower allows you to easily switch off all appliances at once. Save energy not leaving them on standby and if you struggle to reach sockets in the walls this makes it easier (cost about £20)
Use a solar powered 'garden light' as a light in the hallway or other rooms which you can safely see by a lower light – you can charge these on a window sill which gets the sun (from £3)
Use a battery charge pack – when you are out on the bus, trains, in a car, at cafes, the pub or libraries then charge it up. At home you can use these to power a speaker, radio or mobile phone (cost £10 to £20)
Use alternatives to a traditional cooker – air fryers are quicker and slow cookers lower energy usage
Avoid using the microwave to thaw items – plan meals and thaw frozen items on the drainer
Make a flask of tea or coffee when you make a mug – saves a boil and also getting up for another cuppa! (flask £5)
Only boil enough water for your hot drink
Use microwave to cook baked potatoes and vegetables rather than gas hob or oven
Bleed radiators and re-pressurise boilers
Food and cost savings
Refilling household essential like herbs, rice and flour at your local zero waste store
Swapping out certain veggies in a recipe for more seasonal produce will reduce costs
Batch cooking, make larger portions of a meal and freeze them, making it much cheaper
Know the difference between use by and best before dates
Avoid convenience stores. These are much more expensive to shop in
Shop around, buying in one store often will not save you money
Stock up where you can and use own labels rather than big brands
Shop with neighbours or friends to make the most of multi buy options
Make your own snacks rather than using pre-packaged crisps and snack bars
Cook together once a week to share costs of food and cooking. One rule: simple food it's together that matters
Prepare your meals into reusable containers. It makes you less likely to buy food on the go saving you money
Sell unwanted items to help buy things you really need
Build courage to cancel regular payments you don't need, like streaming apps that will go up
Make use of known reward cards
Make regular rain checks of your spending and budget
Use top cash back accounts when buying online
Go for longer lasting initially more expensive items
If on benefits, find out about social tariffs for phone and internet. They are not publicised well!
Recognising a scam
it seems too good to be true – for example, a holiday that's much cheaper than you'd expect
someone you don't know contacts you unexpectedly
you suspect you're not dealing with a real company – for example, if there's no postal address
'Hi mum' text or What's App message – scammers impersonating family members saying they have lost their phone, it's damaged or they can't access it and therefore messaging from a friends' phone. If engaged, will go on to ask for money to be transferred to a bank account
Useful websites
Are you Weather Ready?
Thinking ahead and preparing for what the weather may bring can make a real difference. Here are a few simple steps you can take to prepare yourself, your vehicle and your home or business.