Go Jauntly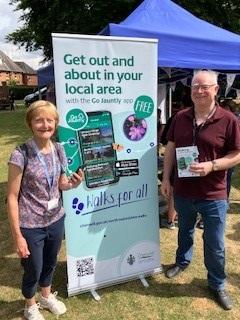 Out and about in your local area
Cherwell District Council began their partnership with walking app Go Jauntly in 2022 to digitise local countryside walks and health routes.
Download the free, easy to use Go Jauntly app to help you find local walks. Simple photo guides help you navigate and the app will tell you about interesting places and what you can see in nature along the way.
Walks are available now in and around Banbury, Bicester and Kidlington and more are being added all the time. These walks, as well as print ready guides, can be accessed via Go Jauntly walks.
All North Oxfordshire walks are free to download for offline use, saving data costs.
Use the Green Routes feature to find circular nature-filled walking routes – and connect with nature every day using the Nature Notes feature.
Our photo shows Sue Marchand, Community Nature Officer and Councillor Chapman.
---
Best Ways to Walk
We want you to have fun outdoors, whilst looking after yourself, those around you and the natural environment. So here's some guidance to help you prepare for and enjoy your walk.
Check the weather. Wear appropriate clothing and footwear as walking can be wet and muddy. Trousers are recommended as parts of the route can be overgrown with vegetation and nettles.
Charge your phone. Take a mobile phone battery pack if you have one. Bear in mind that coverage can be patchy in rural areas so download this walk for offline mode in advance if you can.
Take water. If you're walking alone it's sensible, as a simple precaution, to let someone know where you are and when you expect to return.
Respect landowners. Remember that the countryside is a working place so leave crops, buildings, machinery and livestock well alone. Leave gates as you find them and please keep to the line of the path.
Respect local people. Park your car responsibly. Do not obstruct gateways, narrow lanes and village facilities. Consider leaving valuables at home.
Respect nature. Pick up any litter you see and never leave your own. Ground nesting birds can be disturbed by dogs, particularly in the Spring. Their poo can be bad for the environment so please keep them close by and clean up after them.
Look after your dogs. Dogs should be kept under your control and on a lead if animals are in the fields. Current advice recommends you should not walk between a cow and her calf and, if you are threatened by cattle, you should let the dog off the lead.
Stay safe. Take great care when crossing or walking along roads and narrow paths.
For more guidance, follow the Countryside Code.