The Thorpe Lane waste and recycling depot in Banbury has been refitted with air source heat pumps and innovative batteries as part of a project to slash Cherwell District Council's carbon emissions.
Published: Wednesday, 25th May 2022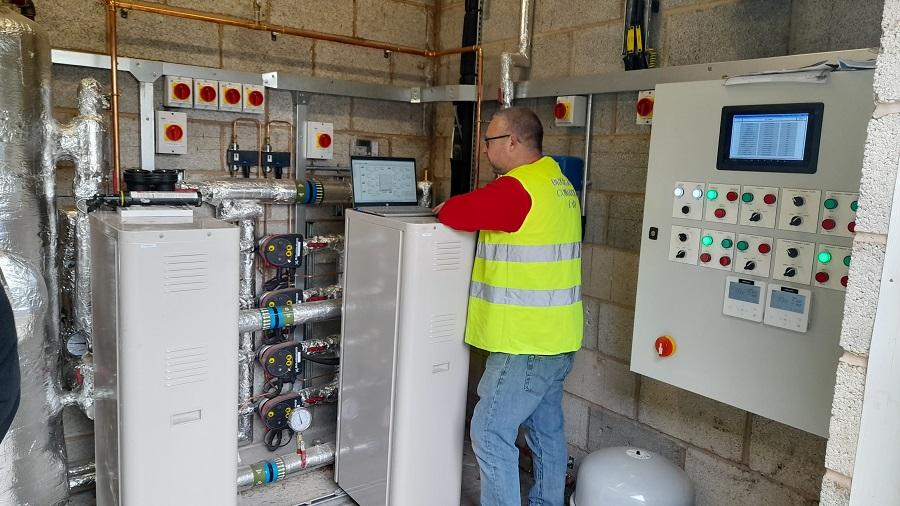 The depot's new air source heat pumps are supported by a completely new heating installation including new radiators and pipework. The pumps heat its buildings, virtually eliminating the use of gas.
The new battery technology harnesses the electricity generated by existing solar panels to provide free power even when the sun is not shining brightly. This additional power can be drawn on when demand is high, doubling the overall capacity at the depot.
Councillor Dan Sames, Portfolio Holder for Cleaner and Greener Communities, said: "We are taking the climate emergency and our commitment to be a zero-carbon council by 2030 seriously. We are utilising part of our government grant to install carbon busting technology at our waste and recycling depot as part of our programme to eliminate 25 per cent of our carbon emissions by the end of the year.
"We had already adopted solar panels in 2011, way before the climate emergency was declared, as we have always striven to be a green council. The addition of innovative battery technology means we are able to double electric capacity at the site to future proof it and allow us to make the move to an all-electric fleet.
"Air source heat pumps are another critical piece of green infrastructure, drawing heat from the wider atmosphere and using it to heat the buildings. That represents a big carbon saving."
These improvements have an overall budget of £5.2 million, paid for by a Public Sector Decarbonisation Grant from the Department of Business, Energy and Industrial Strategy (BEIS). The investment is projected to save 1,075 tonnes of carbon dioxide equivalent (tCO2e) every year across all sites, the equivalent of over 600 transatlantic flights.
It will also save the taxpayer money, with the council projected to pay over £180,000 less in energy and other utility-related costs every year.
Cllr Sames added: "The heat pumps and batteries represent a big development in themselves, but they are just the start of a series of improvements at the Thorpe Lane depot. Over the summer we will be designing and installing a new electrical substation and ducting infrastructure, capable of supporting an entire fleet of electric vehicles.
"The technology for electric-powered bin lorries and other large vehicles may not be with us quite yet. But with this significant investment we are set to be ready to adopt more electric vehicles as soon as it is practical to do so both for the environment and the taxpayer."
The council began the introduction of electric vehicles in 2018 and expects this to increase in the coming years as the cost-efficiency, range, and availability of vehicles such as bin lorries improves.
An allowance of £270,000 of capital investment has been made for these works in the council's budget for the current financial year, in support of its long-term decarbonisation strategy.
The new infrastructure will allow the council to install charging points for various vehicles as they are required in the coming years.
Works to complete the new substation and ducting are set for completion before the winter of 2022.
---
Get the latest news direct to your inbox