For Katey, taking part in a health initiative trial wasn't something she anticipated big results from. So, it was a surprise when the trial inspired her to change her lifestyle in an unexpected way.
Published: Monday, 4th September 2023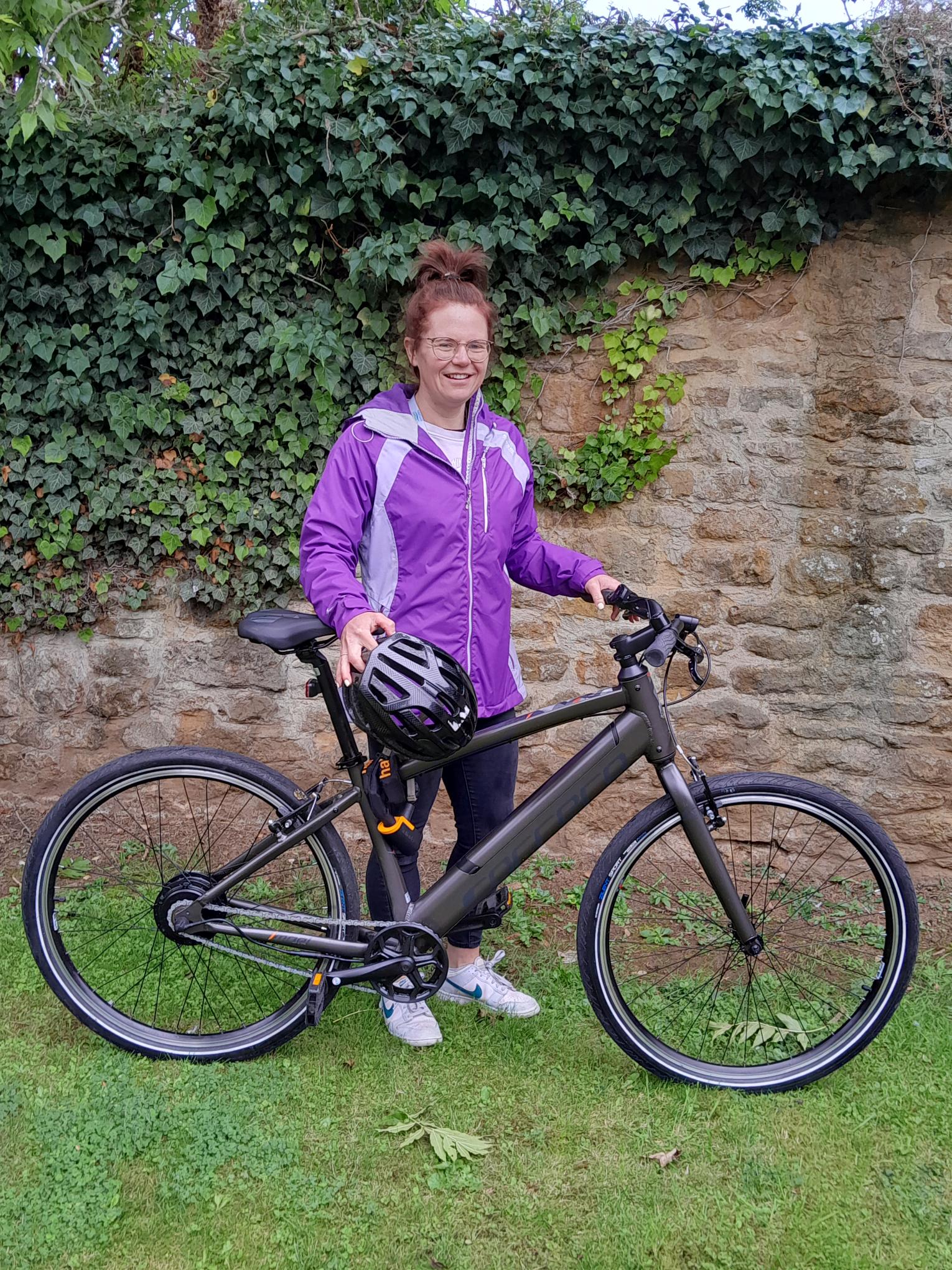 When 36-year-old Banbury resident Katey Humphris signed up for a pilot ebike scheme Cherwell District Council was running in partnership with British Cycling for six weeks, she made a permanent, healthier and more environmentally friendly change to her daily routine.
Katey remarked, "When I was asked to participate in the trial, I was excited as I had never used an ebike before, and I was pleasantly surprised by how much I enjoyed using the bike. I wasn't sure how much I'd actually use it in my day-to-day life, but I ended up using it more than I thought.
"It was brilliant to have an alternative option to using my car. I loved having a healthier transport option that allowed me to do journeys that were a bit too long by a traditional bike. Not only did it help me easily fit in extra exercise, but it also helped me save money on fuel. I didn't think my financial health would also improve!"
Being a part of a trial that focused on helping people improve their physical and mental wellbeing and providing a healthy form of transport was a key part of Katey's decision to participate.
"During my day-to-day routines, I usually have to use my car for short trips of up to ten miles for activities like work, shopping and visiting family.
"Having the option to jump onto the ebike instead of taking my car made things much more enjoyable, and being able to cycle and take in the fresh air was a nice way to break up often boring car journeys (and avoid the traffic) whilst making me feel good about improving my environmental footprint," Katey reflected.
The ebike trial was such a success for Katey that she even invested in her own ebike, "I used the bike almost every day during the trial, which I was very surprised by. I consider myself to be in good shape, but having access to the ebike encouraged me to push myself further and explore more of the district.
"I definitely didn't think the pilot scheme would encourage me to buy my own ebike, but I am so grateful for the opportunity to try it out and find an alternative to relying on my car to get everywhere."
Councillor Phil Chapman, Portfolio Holder for Healthy and Safe Communities, commented, "It is brilliant to see the council's pilot scheme having such a positive impact over the six weeks it was run. Katey's experience clearly highlights the physical and mental health and even monetary benefits that having access to ebikes can provide.
"These type of innovative approaches to working with partners and the community is something that we are proud to use when looking at ways to support residents in their health journeys.
"We are very pleased with how the pilot scheme went and are looking forward to rolling out a number of ebikes as part of the successful Move Together programme."
Move Together is a programme open to eligible Oxfordshire residents and supports them in increasing their activity levels through telephone support and fitness sessions. One of the many options offered is a 50 per cent discount at all leisure centres in Cherwell District for Move Together members.
To sign up to Move Together and access all the benefits, visit the Move Together website, www.cherwell.gov.uk/MoveTogether or call 01295 221575 and speak to a member of the Cherwell Move Together team.