Electric vehicle owners and hirers across Oxfordshire will be able to take advantage of a range of offers this World EV Day.
Published: Friday, 1st September 2023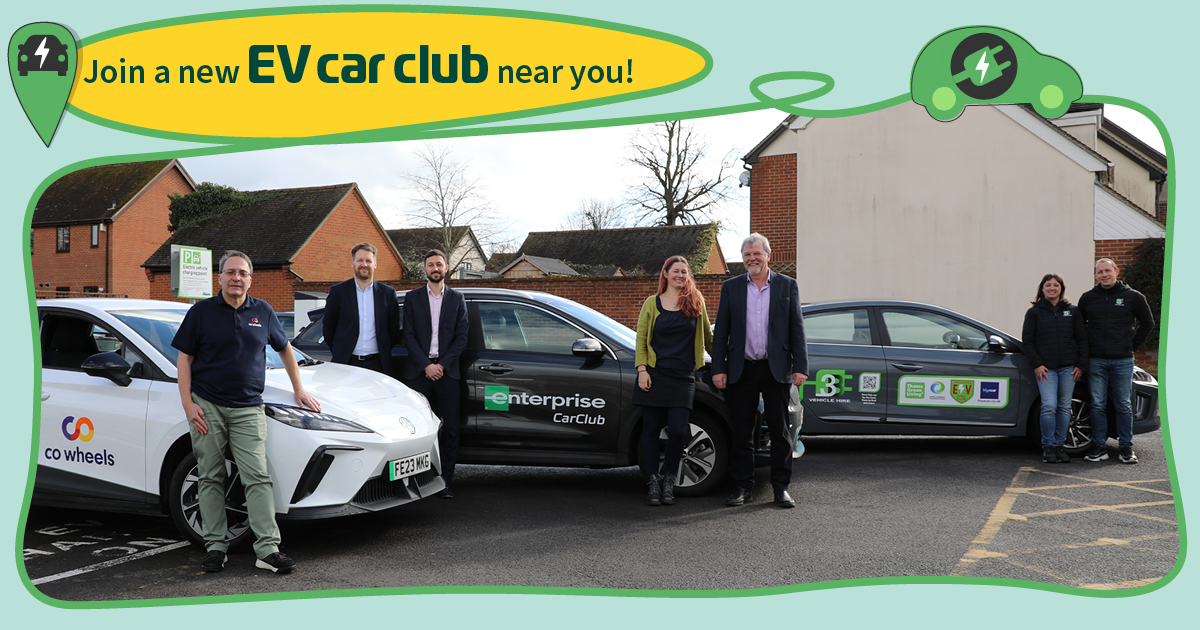 World EV Day, which takes place on 9 September, is an annual event aiming to highlight the progress in e-mobility and promote the shift to electrified transport.
This year, to celebrate World EV Day, the electric vehicle charging point companies will be offering deals – including free charging – for drivers across Oxfordshire.
There's also the chance to join the county-wide EV car club scheme, with significant deals during World EV Day saving you money on membership and hire fees.
Since last year's World EV Day, global electric vehicles sales have increased 39 per cent and, in July 2023, (48 per cent) of newly registered vehicles in Oxfordshire were purely electric.
Councillor Andrew McHugh, Portfolio Holder for Cleaner and Greener Communities, said "Electric vehicles are an important element of the shift we need to make as a society to meet the challenge of climate change and improve air quality in our urban areas. We're playing our part with Park & Charge sites and EV car clubs operating in council car parks across Cherwell district. There's already a great level of take-up for electric vehicles in north Oxfordshire and I hope that World EV Day helps further drive enthusiasm for them with some of the offers that are available for local motorists."
Drivers can find their local charging point on ZapMap.
EZ Charge
EZ Charge, which operates Park & Charge sites in council-owned car parks across the district, will be offering app members the first hour of charging for free.
After the initial hour, usual rates will apply: 47p/kWh during the day and 42p/kWh overnight.
Co Wheels Car Club
Co Wheels Car Club will be offering a special promotional code (WORLDEVDAY) for new members who sign up before World EV Day.
The promotional code will provide new members with £15 free driving credit on sign up, as well as no joining fee (usually £25) and no monthly fee (usually £5 per month) for the full duration of their membership.
In Cherwell district CoWheels is based at Calthorpe Street West and Windsor Street car park in Banbury.
Oxfordshire Electric vehicle (EV) car club pilot
Residents can continue to join the county-wide EV car club scheme this World EV Day, with car-club locations including Redbridge Park & Ride, EZ-Charge sites, and Co Wheels Car Club.
The initiative is an electric car-sharing pilot is a partnership between Oxfordshire County Council, Oxford City Council, and Cherwell, South Oxfordshire, Vale of White Horse and West Oxfordshire district councils that has provided the car parking spaces for vehicles.
Find out more about electric vehicles
All of the Oxfordshire councils and Oxford Local Enterprise Partnership (OXLEP) have created the Climate Action Oxfordshire website.
The website contains lots of information about choosing an electric vehicle as well as information about other ways Oxfordshire residents can help tackle the climate emergency.
---
Get the latest news direct to your inbox