Banbury's new high street Mental Health & Wellbeing Hub has opened its doors thanks to footballing hero Martin Keown.
Published: Friday, 21st July 2023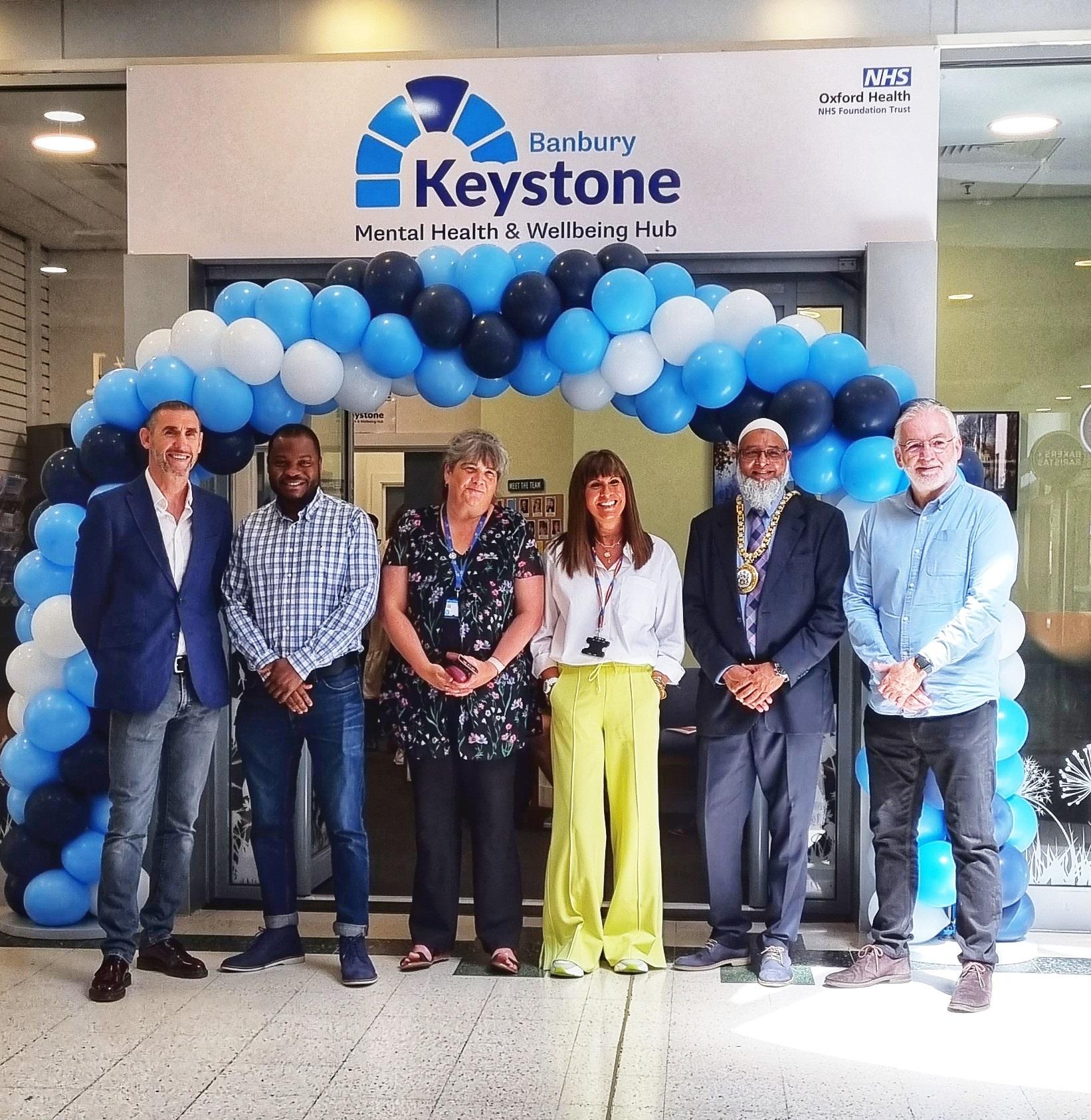 The former Arsenal and England player pulled back the curtain to officially open the Mental Health & Wellbeing Hub Banbury as part of a gala event on Thursday, July 20.
The celebrated football pundit said: "We've got to be honest with ourselves, right now people have various issues, just a word here and there can help people. You can go here, its aligned with your GP it is an NHS initiative, it's less formal. I think this will bring a lot of people through the doors.
"In football mental health is something we train for. We have psychologists now that look at key things in your game and your make-up. I think local people should come in and make that first step."
Councillor Phil Chapman, Cherwell District Council's Portfolio Holder for Healthy and Safe Communities, said: "This new Keystone hub is a great addition to Castle Quay and Banbury town centre. Mental health is a key component of people's wellbeing, and thankfully the recognition that it is okay to seek help when it's necessary is becoming increasingly widespread. Access to this support in a central and convenient location can only be a good thing for the wellbeing of our residents and communities."
Hub manager and mental health nurse David Naidoo said: "We're open every weekday 10am to 2pm for people to pop in, find out about what we do, and get support with their mental health. That's alongside regular appointments and support for patients at the hub from 9am to 5pm. Call in and talk to us, where here to help."
Guest at the celebratory event included MP Victoria Prentis, Banbury mayor Fiaz Ahmed, Vice-Chairman of Cherwell District Council Councillor Dr Chukwudi Okeke, Imam Shouaib Ahmed and assistant curate Sarah Cotterill.
And amid local mental health, local government and third sector professionals, members of the public and shoppers popped in to find out more.
The hub will be home to a Primary Care Mental Health Team and include professionals from health and social care including mental health professionals from the NHS, the third-sector and people who have experienced mental health challenges themselves.
Adults experiencing mental health challenges will be enabled to thrive among friends, family and their community, drawing on support from the hubs which are linked to their local GP surgeries, NHS mental health services, and third-sector mental health services.
The Banbury hub has been developed with adults who use mental health services in Banbury after they said they would like to see more specialist care available at local level via their GP surgery, and improved communication between GPs and mental health services.
A keystone is the central stone, or principle, which holds a building or system together. It is part of a series of Keystone Mental Health & Wellbeing Hub opening up in town centres and communities across the county.
---
Keystone Mental Health and Wellbeing Hub
Open Monday to Friday.
Seeing patients by appointment 9am to 5pm.
Available for the public to call in 10am to 2pm.
Contact
01865 904872
keystone.banbury@oxfordhealth.nhs.uk
---
Get the latest news direct to your inbox