North Oxfordshire residents are invited to sign up and make the most of a new coffee pod recycling initiative.
Published: Tuesday, 30th May 2023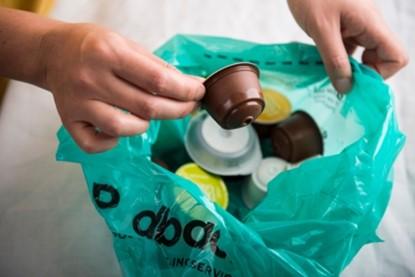 Cherwell District Council has entered into a new partnership with Podback, a nationwide, not-for-profit recycling service. Leaflets explaining how residents can sign up for it are being delivered to homes across the district and collections are starting from 30 May.
Councillor Andrew McHugh, Portfolio Holder for Cleaner and Greener Communities, said: "Cherwell residents do a great job at recycling their waste and we are always looking to support their efforts and improve the district's recycling rate.
"Coffee pods can be difficult to recycle because they are made of a combination of different materials. That's where a dedicated service such as Podback can really make a difference, and even better, all the materials are recycled domestically in the UK.
"Residents who use coffee machines can now enjoy the convenience of having our bin crews collect their pods and take them away for recycling. They simply need to leave their used pods on top of any of their bins, in the supplied bags, and we'll do the rest."
When people sign up and set up an online Podback account they will receive two free rolls of bags in the post. When they run out, people can order more through their online account.
Depending on whether they use aluminium or plastic pods, people will receive white or green bags. This allows the different materials to be separated into different waste streams to facilitate the recycling process.
Tea and hot chocolate pods are also accepted. After collection, the pods are taken to specialist reprocessing plants in the UK.
They are shredded to remove the coffee grounds. The plastic and aluminium are then transformed into new products, including beverage cans, car components, building products or plastic garden furniture.
The coffee grounds are processed by anaerobic digestion, which creates renewable energy and soil conditioner.
Read more about the scheme and sign up
---
Get the latest news direct to your inbox