The three newest members of the Community Safety Team – Yvonne Jaggs, Trudie Rose and Helen Inskip, are today celebrating their first anniversary as Community Wardens.
Published: Tuesday, 31st October 2023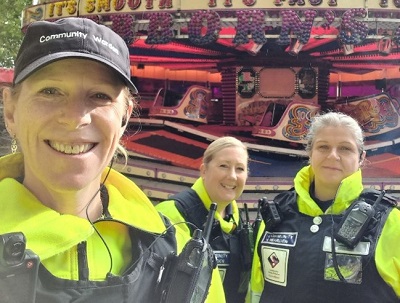 Yvonne, Trudie and Helen work alongside their fellow Community Warden, Tim Davies and the Community Safety Development and Engagement Officer, Katey Humphris.
As Community Wardens, their key objectives include:
To carry out Hi visibility patrols throughout the Cherwell District which includes Banbury, Bicester, Kidlington and all surrounding villages.
To provide community safety advice and support to residents and partner agencies
To carry out ASB investigations and, where appropriate, take enforcement action
They work in partnership with Thames Valley Police, registered social landlords and other local agencies or organisations to tackle Anti-social Behaviour, Crime and Disorder.
"It's been an amazing year...I feel so fortunate to have such a diverse role that gives me the opportunity to work alongside Thames Valley Police, voluntary organisations, other teams in Cherwell District Council plus members of our amazing community. The welcome from everyone has been heartwarming. I have met some wonderful people and had the opportunity to be involved in some fantastic projects. I am really looking forward to the next 12 months!". Yvonne
"The past 12 months have flown by which can only mean one thing…I'm thoroughly enjoying my role within the Community Safety Team! Over the past year, we have established ourselves with various communities within the Cherwell area. No two days are the same! One day we could be helping in a community centre or giving a safety talk in a school and the next we are supporting the police. So far, I feel the best and most rewarding part of my job has been building relationships and trust with the most vulnerable residents and then working alongside other teams/agencies to help that individual access the support they need." Trudie
"We have a fantastic team. The amount of support we receive from members of the community as well as from Thames Valley Police, other departments within Cherwell District Council and other organisations within the district has given us the confidence to carry out our roles with the knowledge that we are respected and supported. I think everyone is sick of hearing me say this, but I really do love my job!".Helen
If you see any of the team when they are out on patrol, please do come and say hello.