Take our survey
W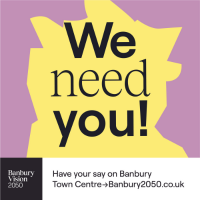 e are working to develop a vision for Banbury town centre to ensure it meets the needs of all our residents, businesses and visitors now and through to 2050.
Our Banbury 2050 project will help us identify actions that will support the town centre to flourish and become more accessible, welcoming, safer and an active place for all to live, work, study, shop and enjoy.
We understand that town centres are changing and must adapt, and this essential project will enable us to get prepared and set a direction of travel for Banbury in the coming years.
We need you to help us. This is your chance to have your say and shape the future of Banbury town centre by telling us what you think before the closing date of Monday, 15 January 2024.
The more voices we hear, the better informed we are to create a town centre vision that will unlock Banbury's immense potential through to 2050.