EH Sense is proud to have supported local businesses to enable them to understand the complexities of environmental health legislation.
This enables businesses to comply with food safety, health and safety, licensing, pollution and nuisance law. In doing so, it allows them to focus on developing and growing their business..
Below are testimonials from some businesses we have supported.
Home from Home and 4U nurseries
10 of the team were involved in the Strive for 5 visit and really enjoyed it. Daniel Kenward was very thorough and engaging and what was discussed will be with me forever! This service will ensure best practice and will give your team a completely different perspective on food hygiene. For just over £200 it is a must do for any food business team. - Maria Botterill June 2019
---
Foggy's Jerky Co. - Banbury

Since setting up Foggy's Jerky Co. we have been in regular contact with Sally Collett from EH Sense. She was incredibly helpful and supportive by providing a wealth of information relating to food safety. Sally was very proactive in organising a pre inspection visit, talking us through the HACCP relating to our business. Alongside this Sally arranged shelf life testing of our products through UKAS accredited labs.
Having the support of Sally has really given us the confidence to produce the highest quality local beef jerky. We would highly recommend any new business contacts EH Sense, who go above and beyond in support of new business.
William - April 2019
---
Principles of Food Safety in Catering - Taught Course
Excellent course with loads of helpful information on the basics of food hygiene for any food business.
Magdalena - March 2019
---
Quince and Clover - Bicester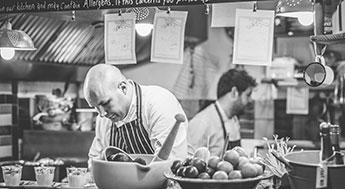 Dan Mann is the owner operator of the Quince and Clover boutique catering firm in Bicester. He has built up a relationship with council officers over a four-year period. This relationship began when Dan was an employee of a catering firm and continued as he became a business owner.
He said: "The fact that I've known the Cherwell officers for many years means I can talk openly with them. They have seen me grow and understand the needs of my business. It gives me confidence that I've got the right policies in place and that I'm doing the right thing for my customers." - November 2017
---
The Star Inn - Sulgrave
When we took over 'The Star Inn', we contacted the EH Department to advise of a change of landlords.
Daniel Kenward contacted us and offered to email us helpful information and contacts prior to our main inspection. We explained we were new to this business. So Daniel offered to come and visit us and talk through what was required to obtain a good star rating!
We found Daniel's pre inspection extremely useful and helpful, from identifying possible issues to helping out with advice on improvements. We were new landlords with quite a task of improvements ahead! We also went through paperwork for example training records and cleaning practices, and advice on Safer Food Better Business.
We were able to act on Daniel's advice and are proud and pleased to say when we did get our unannounced EH Visit, a few weeks later, we obtained a 5* rating.
We would recommend contacting EH for advice, whether entering into a new business or seeking advice in your current business. At the end of the day we are all working together to achieve the same results 'Safer Food Better Business'.
Nicola Shooter and Stephen Kendall - April 2018
---
Pound for Pound - Aston Le Walls
Before starting my catering business I took the level 2 Food Safety in Catering course run by Cherwell District Council. This course was very thorough, interactive and informative. It left me with the confidence that I have the knowledge to start trading in a safe and efficient way. The course covered a broad range of topics from the legal requirements to food handling and safe storage of foods. I would recommend the course to anyone planning to start a catering business.
My wife has recently done the online course which she found helpful but obviously lacked the opportunity to ask questions.
Grahame - May 2018
---
Ofishial Foods - Banbury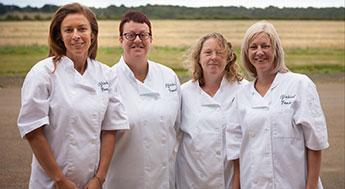 Dorothée Cape, Managing Director of Ofishial Foods in Banbury, has built up a relationship with council officers over ten years. This spans Dorothée's time owning and operating a restaurant, and also as a manufacturer of ready meals. Dorothée said, "I've known Sally and Rachel (or if you prefer "the team") for so many years. In that time we've developed a strong professional relationship that's built on trust. I have, on numerous occasions, contacted them with HACCP and other queries. I've constantly been impressed with their friendliness and willingness to give me the time I need. As our business grows they continue to support and guide us. It gives me confidence that I've got the right policies in place and I'm doing the right thing for my customers." - August 2018
---
Kama Restaurant - Bloxham
The food hygiene course was well-organised and presented. There was a lot of information to take in. But talking through all the modules and reinforcing these with the slide questions/handouts was helpful. Even though I had attended a couple of courses in the past I still felt it was useful. Attending in person gave us the opportunity to ask questions if something was not clear. We could also ask about something else related to the subject. It was interesting to hear questions from the others and learn about their different food businesses. The experiences of the person running the course also made the day more interesting. The visual aids about pests were particularly memorable!
Although the day was quite long there were plenty of breaks and even coffee and biscuits provided! Being able to focus without other distractions meant I learned more than if I had done the course online. All in all I felt it was worthwhile and very good value and would certainly recommend it to others.
Adrienne - February 2018
---
Davidson's Fish and Chips - Adderbury
I attended a Level 2 Food Safety in Catering course held at Cherwell District Council. During the course I was pleasantly surprised how relaxed and informative it was. Nothing like a lecture or strict exam. Just a friendly and helpful tutor giving some sound advice on food hygiene and safety. I would definitely recommend taking the course to anyone starting a food business or simply refreshing their skills.
Amelia - February 2018