A thousand trees have been planted at a large community woodland near Bicester as part of efforts to capture carbon and promote biodiversity.
Published: Monday, 20th December 2021
The site between Chesterton and Bicester was acquired by Cherwell District Council with the goal of creating a nature-rich space for residents to enjoy. Over 50 local volunteers, in partnership with the council, have been helping the new woodland take root.
Councillor Dan Sames, Lead Member for Clean and Green, said: "It is great to finally see planting get underway at Burnehyll Community Woodland. These are the first of 25,000 trees planted by local groups, that will go in at the site to create a woodland to be enjoyed by the community for years to come.
"Cherwell are serious about mitigating the impacts of climate change and planting trees to capture CO2 emissions is just one of the elements that we are using on our journey to become a carbon net zero council by 2030.
"This woodland will become a haven for wildlife and provide a beautiful natural environment for people to enjoy at their leisure. I would like to personally thank the volunteers who have put their energy and enthusiasm into getting this inspiring project underway."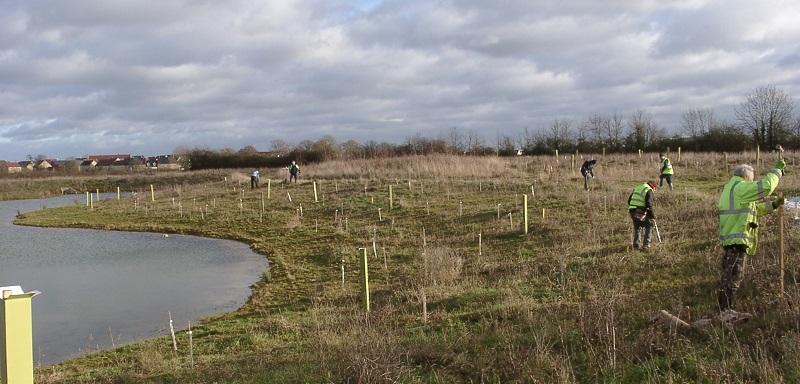 Several volunteer groups have come together to plant the trees. Led by Friends of Burnehyll Community Woodland, they also include Bicester Green Gym, Bicester 41 Club, Chesterton Rainbows, and other local people.
Formerly farmland, the site was proposed for use as a woodland by Chesterton Parish Council over 15 years ago. Since then, species including foxes, field mice, voles, owls, roe and muntjac deer have been found there. The site also has a pond, the area around which is the first to be planted, playing host to a variety of birds including ducks, swans and gulls.
Funding for the 1,000 native trees has been organized by Andrew Haining of e-forests through carbon offset solutions. Donations for larger trees have also been made, by Bicester 41 Club and Bicester Round Table.
Following negotiations between Cherwell District Council and Countryside Properties, in July 2014 the council agreed to acquire the land for £1. Over the years the project has been worked on by Cherwell's Bicester Garden Town Team with the aim of supporting sociable communities where people have a sense of belonging.
The planting plan for the woodland has been created by landscape architect Kris Hindhaugh who has chosen over 30 native tree and shrub species to suite soil conditions on different parts of the site.
Tim Screen, Landscape Architect is Cherwell's project lead on site. Tim said: "This is just the beginning for Burnehyll Community Woodland. We intend to plant 25,000 trees in total over two or more years. This first phase will be managed in partnership with the community and the council to ensure it is successfully established to reach its full potential.
"The combination of woodland, open space and balancing pond are essential for people to connect with nature, enhancing their well-being and improving their general health. Please treat this woodland and the people who use it with respect."
The project forms part of the council's overall target to reach net zero carbon by 2030 as set out in our Climate Action Framework. In partnership with Oxfordshire County Council, the joint Climate Action Team is supporting Cherwell District Council in meeting these goals.
For more information about the framework and activities being undertaken please visit our climate emergency pages.
---
Get the latest news direct to your inbox