People are being reminded to have their say on the big issues that will shape the future of north Oxfordshire, as an important stage of consultation on Cherwell District Council's new Local Plan draws
Published: Friday, 5th November 2021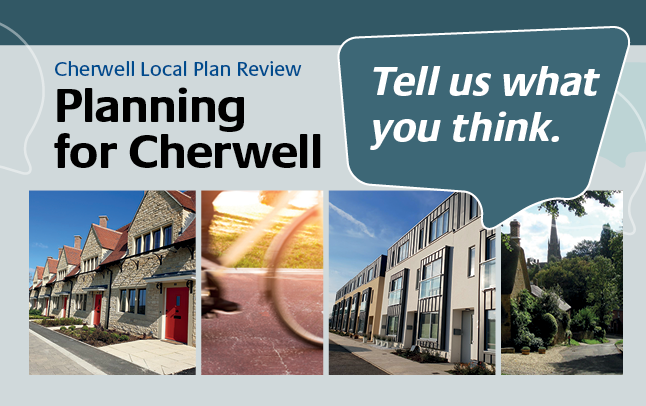 The plan will include a vision for the future as well as policies to guide the development of homes, workplaces, green spaces, and infrastructure. Members of the public are invited to have their say on an options paper before 11.59pm on Wednesday 10 November 2021.
Councillor Colin Clarke, Lead Member for Planning, said: "We are consulting on an options paper that lays out the big choices that we will have to make when we write our next Local Plan. That plan will be a cornerstone of local policy, setting out where future new homes and infrastructure may be built, and defining key elements of our response to the climate emergency and COVID.
"The new plan will cover the period to 2040, so those policies will affect local peoples' lives for quite a period of time. The options paper contains accessible sections organised by themes, which spell out the key issues, and present the choices that the council needs to make. It is important that we capture local people's views, so we are really encouraging people to have their say."
The council's current adopted Local Plan is now five years old. The process of creating a new plan is a chance to develop new policies for matters including: the climate emergency; creating a built environment that promotes heathy lifestyles; achieving net increases in biodiversity; supporting town centres; and rural housing.
The council wants to hear people's views on:
the draft vision for the future and how this could be delivered;
proposed options for new planning policies; and
local profiles for Banbury, Bicester, Kidlington, Upper Heyford and our rural areas, as a way of promoting discussion of their futures.
The current consultation has been running since 29 September. The council anticipates consulting on a draft Local Plan in 2022 and before submitting it to the Planning Inspectorate for independent examination in 2023.
Residents, businesses, and other local stakeholders can all have their say through the council's new consultation platform at Let's Talk Cherwell.
---
Get the latest news direct to your inbox