He may have been on shifts until after midnight during lockdown, but for Bicester's Tim Davies, serving the town where he was born and bred "doesn't feel like work".
Published: Wednesday, 29th July 2020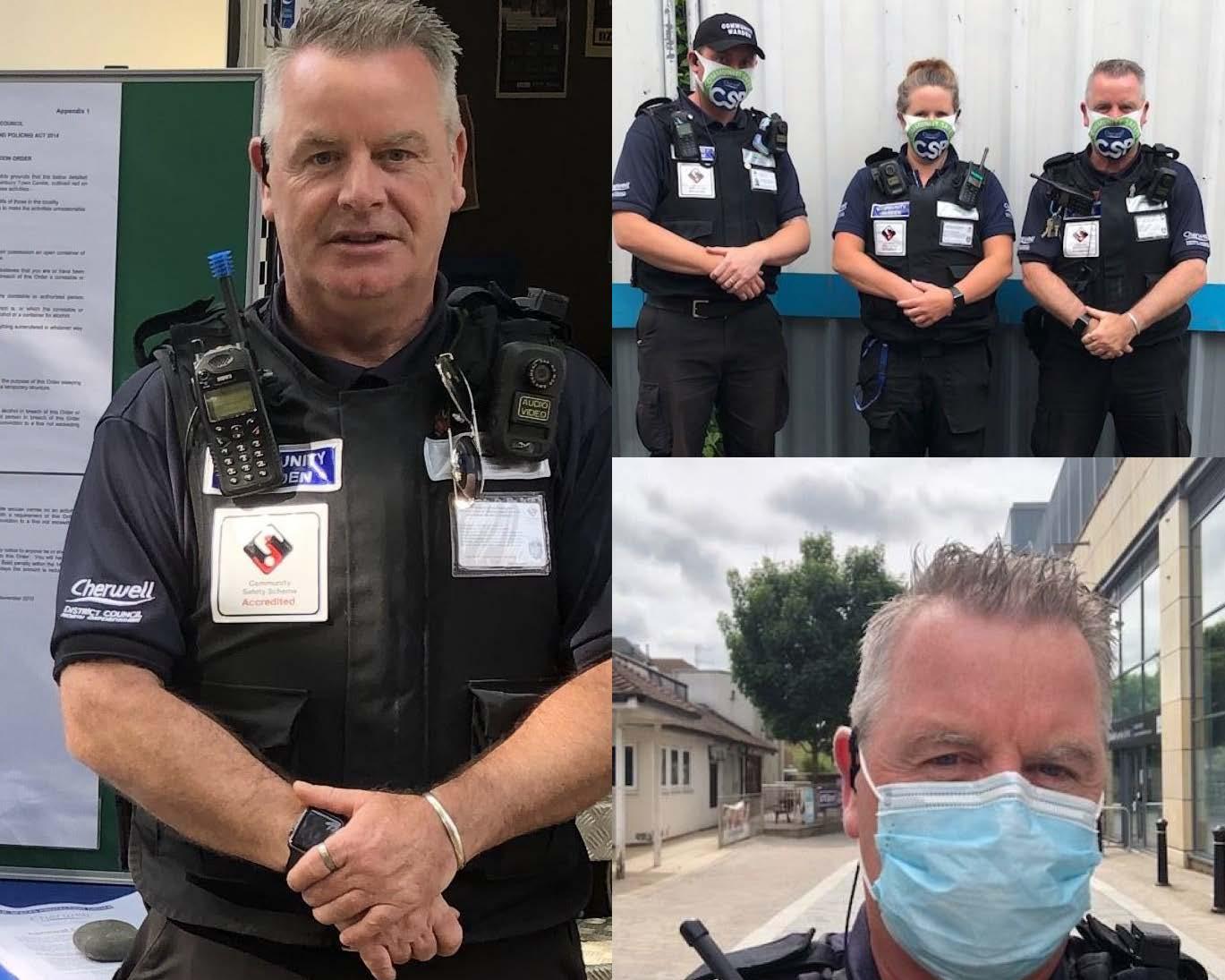 A community warden, father-of-five Tim has worked for Cherwell District Council for 15 years. He and the team he is part of are calling on local people to keeping working together to stay safe and minimise coronavirus infections as part of the council's #stopthespread campaign.
Tim has also been helping the effort to #stopthespread by encouraging people to use the new hand sanitiser stations that are going up around Bicester.
Tim, 52, said: "Our role has always been varied. Before the pandemic, our daily patrols would see us performing tasks like breaking up anti-social behaviour, enforcing alcohol licensing rules, and working with the police to help fight organised crime.
"But we adapted the way we work at the start of the COVID-19 crisis. We changed our shift patterns so that we could patrol public spaces seven days a week after dark. We decided it was a more effective way of discouraging large gatherings where people were at higher risk of catching the virus."
Supporting vulnerable people has long been a key duty of Tim's. That can cover anything from identifying people in danger of being exploited by criminals, to referring rough sleepers to support services.
It has continued to be a theme during coronavirus. Tim adds: "We've also been visiting more vulnerable people, such as those shielding, during the lockdown to make sure they've got access to the support that is out there, and that's been really rewarding. At the other end of the spectrum, we've even had to respond to reports of people being deliberately coughed on."
Close work with the police, social services and other local agencies has always been key for Tim. He and his fellow officers contribute to Thames Valley Police's Operation Stronghold, tapping into their local knowledge to pass on information to help the fight against issues such as county lines drug dealing.
Cherwell was one of the first councils to join the police's community safety accreditation scheme, granting the officers in Tim's team some police enforcement powers.
Tim says: "The fact that we can issue Fixed Penalty Notices, ask for people's addresses, or confiscate alcohol from underage drinkers, has improved our standing in the community. People know we can deal with many of the issues that concern them and are more likely to report them to us."
"As we've come out of lockdown, I've been trying to set a good example by wearing my mask when it's not possible to keep a two-metre distance. And I urge members of the public to do the same, especially in shops and libraries, where it's now a requirement."
Although he has formal powers if he needs them, enforcement is just a small part of the job: advice, reassurance and guidance are always Tim's first port of call.
His message to the community he serves is about tolerance: "During this coronavirus pandemic, we are all learning. It's always worth staying mindful that we live in diverse communities where people live different lifestyles. The virus has magnified some things, but I really believe that most problems can be overcome with a bit of understanding and respect.
"To me, my job doesn't feel like work. If I've got the chance to help the community I live and work in, and where my children were born, then why wouldn't I?"