A Bicester charity was handed a cheque for £10,600 as council Chairman Councillor Les Sibley ended one term of office and embarked on a new one.
Published: Tuesday, 30th May 2023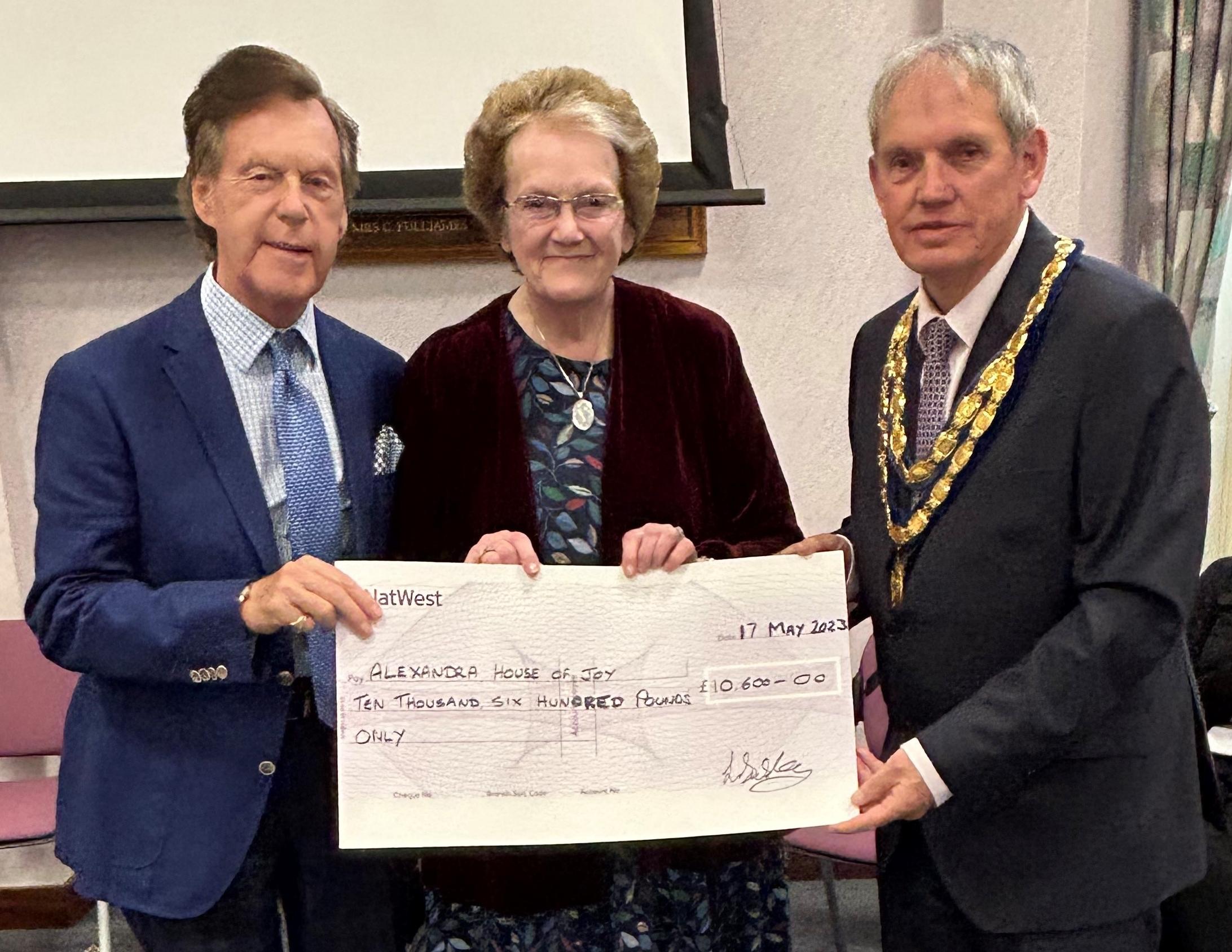 Councillor Sibley handed over the cheque to Ian and Rachael Scott-Hunter, representatives of Alexandra House of Joy, at the full council meeting on Wednesday 17 May.
He was re-elected as council chairman for the new council year, with Cllr Dr Chukwudi Okeke elected as Vice-Chairman.
Councillor Les Sibley, Chairman of Cherwell District Council, said: "I am really grateful to everyone who has attended fundraising events and donated funds to support Alexandra House of Joy during my first term of office. They are raising money to build a new care facility in Bicester to offer support for adults with severe learning disabilities, and this sum of money will help make that aspiration a reality.
"I am pleased to announce that I will be continuing to raise funds for Alexandra House of Joy during my second year in office as council chairman. Their new centre will offer daytime support, respite holidays and palliative care, so it is an incredibly worthwhile project and one that will make a difference to the lives of people not only in Bicester but across the district and wider region too.
"It has been an honour and a privilege to serve as chairman of the council and I look forward to continuing to represent the council in this important role in 2023 – 2024."
At the council meeting on 17 May Cllr Sibley also received a certificate from Thames Valley Police on behalf of the council. This was presented by Chief Superintendent Emma Garside in recognition of the council's role in the multi-agency response to the COVID-19 pandemic.
Cllr Sibley has lived in Bicester for fifty years and has served on Bicester Town Council and Cherwell District Council since 1995.
In an unusual hattrick of local public service, Les will soon have served two years in three different ceremonial roles: he was Mayor of Bicester in 1997 and 2017 and Chairman of Oxfordshire County Council from 2019 to 2021.
The chairman of the council is the politically impartial civic leader of the authority and acts as an ambassador for the council and Cherwell district.
Key responsibilities include presiding over meetings of district councillors, accepting invitations on behalf of the council to attend events, and inviting individuals and representatives of key organisations to events at the council and other venues.
Cllr Sibley will be running fundraising events in support of Alexandra House of Joy's fundraising drive throughout the year and continuing his "buy a brick" campaign, which encourages people to buy a piece of the new care centre for just £5.
Rachael Scott-Hunter, Chair and Founder of Alexandra House of Joy said: "My husband and I feel very honoured that Cllr Sibley has once again chosen Alexandra House of Joy as his charity for his term of office as Chairman of Cherwell District Council 2023 - 2024. Cllr Sibley has been an incredible ambassador for us and having someone truly believe in our vision and mission, and who actively seeks to support our mammoth fundraising target, is enormously encouraging.
"Our primary aims and goals are all about the precious families caring for their adult with a severe and profound learning disability, and having someone like Cllr Sibley, who so deeply cares too about the most vulnerable and truly disadvantaged people in our society, is wonderful and inspiring."
For further details of the events that Cllr Sibley will be running throughout the year and for information about how to buy a brick in support of Alexandra House of Joy, contact the Chairman's personal assistant.
---
Get the latest news direct to your inbox