Banbury's open air swimming pool at Woodgreen leisure centre is debuting an important upgrade in time for a summer of fun.
Published: Monday, 22nd May 2023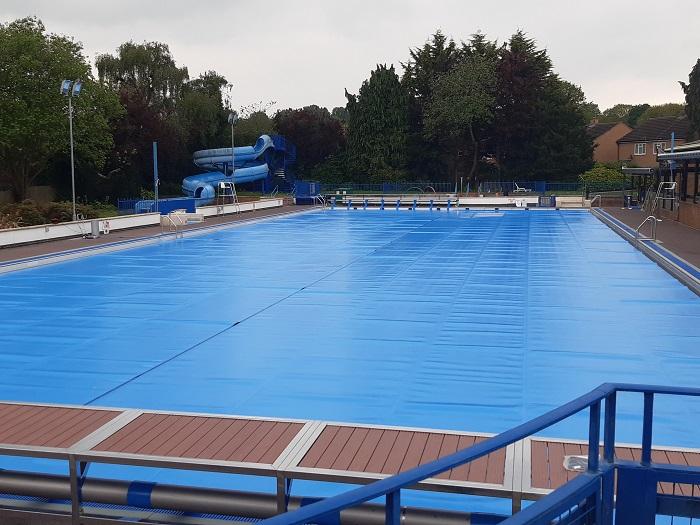 Special new heat retention covers have been installed to keep the water warm for swimmers when the pool is not being used. This means less gas will need to be used to support heat recovery to the 50 metre facility.
This is all possible as a result of a £58,000 investment by Cherwell District Council.
Yvonne Rees, Chief Executive, said: "Woodgreen open air pool is a very well used and much loved feature of summer in Banbury. As part of our mission to be a carbon neutral council, we've been investing in changes to our leisure centres so that they need less fossil fuels to heat.
"These new pool covers arrive after the addition of one of the largest solar thermal installations in the country, last July. Not only are we using the power of the sun to keep the water warm for our swimmers, we're now retaining it and making it go further. This means we need to use less gas for heating, meaning we are being kinder to the planet.
"We look forward to giving local swimmers and visitors from further afield a warm, and environmentally friendly welcome at Woodgreen this summer."
The pool covers are made from a high-spec material designed to retain as much heat as possible. They come with a slatted bench system to keep them out of the way and tidy when not in use. Wind wires are also fitted to ensure that when the covers are on, they remain stable within the pool. The covers have also been designed to help keep debris out of the water.
The £58,000 funding is made up of monies from funds from Cherwell's own capital budget and contributions from housing developers, under S106 legal agreements linked to planning permissions.
Woodgreen leisure centre receives annual contributions from Banbury Town Council towards its running costs.
To view the swimming timetable at Woodgreen leisure centre and make bookings visit www.leisurecentre.com/woodgreen-leisure-centre
---
Get the latest news direct to your inbox