Next month will see local elections taking place across the Cherwell district and residents are reminded that the deadline to register to vote is just days away.
Published: Wednesday, 12th April 2023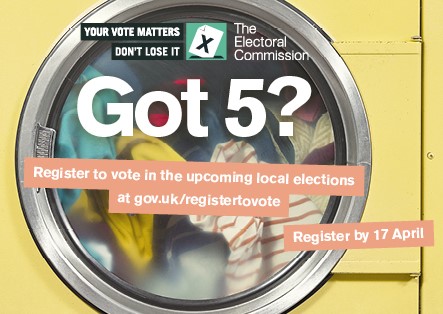 Elections are happening on Thursday 4 May, with a third of the seats on Cherwell District Council being contested. People who are not already registered to vote will need to do so before midnight on Monday 17 April.
Yvonne Rees, Returning Officer, said: "Local elections are the perfect opportunity for you to have your say on who represents you on matters affecting residents, communities and businesses, including essential public services like waste collection, environmental health and leisure centres.
"It is important to make the most of your chance to vote and the first step is making sure you are registered to vote. If you have not already registered at your current address, have recently turned 18 or changed your name, make sure to register before midnight on Monday 17 April to have your say."
Following the close of nominations, we now know who will be standing in district and parish elections. Residents can find out the candidates for their district ward or parish by going online and visiting the council website at cherwell.gov.uk/elections2023
Thirty-five parish councils in the district have scheduled elections on 4 May. However, in some cases there are fewer candidates than seats on the respective parish councils. This means these elections will not be contested. All four Bicester Town Council wards, the Kidlington parish council wards of Orchard and Roundham, the Banbury Town Council Calthorpe South ward and Fritwell, Somerton and Wigginton parish councils are all contested.
Voting options
Those already registered to vote at their current address do not need to re-register.
When registering to vote, it helps if people have their national insurance number to hand. The deadline for people to register to vote is 11:59pm on Monday 17 April.
To register visit gov.uk/registertovote
From 4 May, electors voting in person at a polling station must show an accepted form of photo ID. Further details are available on the Electoral Commission website electoralcommission.org.uk/i-am-a/voter/voter-id. People can choose to have a postal or proxy vote instead of voting in person. A proxy vote lets electors choose a trusted person to vote on their behalf. People must be registered to vote to apply for a postal or proxy vote.
Electors need to apply for a postal vote by 5pm on Tuesday 18 April, or for a proxy vote by 5pm on Tuesday 25 April.
---
Get the latest news direct to your inbox