8 March not only marks International Women's' Day but also the day that Cherwell District Council signed the Menopause Workplace Pledge.
Published: Wednesday, 8th March 2023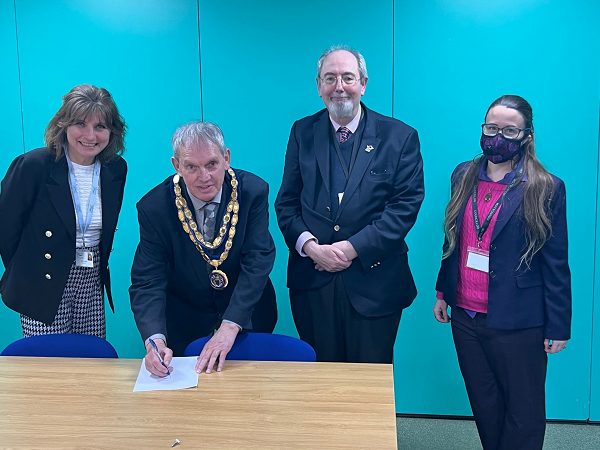 The move highlights the council's commitment to actively supporting employees experiencing the menopause.
Founded by charity, Wellbeing of Women, the pledge looks to address what support can be accessed in the workplace for those affected by the menopause and how employers can create and encourage an open dialogue to ensure any issues in relation to the menopause can be identified and addressed.
Councillor Les Sibley, Chairman of the Council, said: "We are very proud to show our commitment to our staff through signing up to the Menopause Workplace Pledge. As an employer we value our staff and the significance of creating a workplace with a culture of support where employees feel able to talk openly, positively and respectfully about the menopause.
"Being a part of this campaign has given us the opportunity to build upon the support that we already have in place to further reflect how the menopause can impact the workplace. We will be continuing this conversation to ensure that everyone can understand how the menopause can significantly affect the lives of many."
With women over 50 becoming the fastest growing demographic in the workplace, it has never been more important to recognise the barriers that the menopause can create for many, from sleep deprivation to memory problems. For many women, the symptoms can be exhausting and negatively affect day to day life, work and relationships. It is a subject that is often considered taboo and not discussed in the workplace, which can often be the very environment where symptoms are the most challenging to manage. Many women often suffer in silence and/or struggle to continue when they are often at the peak of their careers. Research has shown that 10 per cent of women leave their jobs because of debilitating symptoms.
By committing to the pledge, signed by all group leaders at Cherwell, the council are demonstrating the value that it places on their colleagues and their continued commitment to ensuring there are processes in place to foster a happy and supported workforce.
---
Get the latest news direct to your inbox