Turn bananas into energy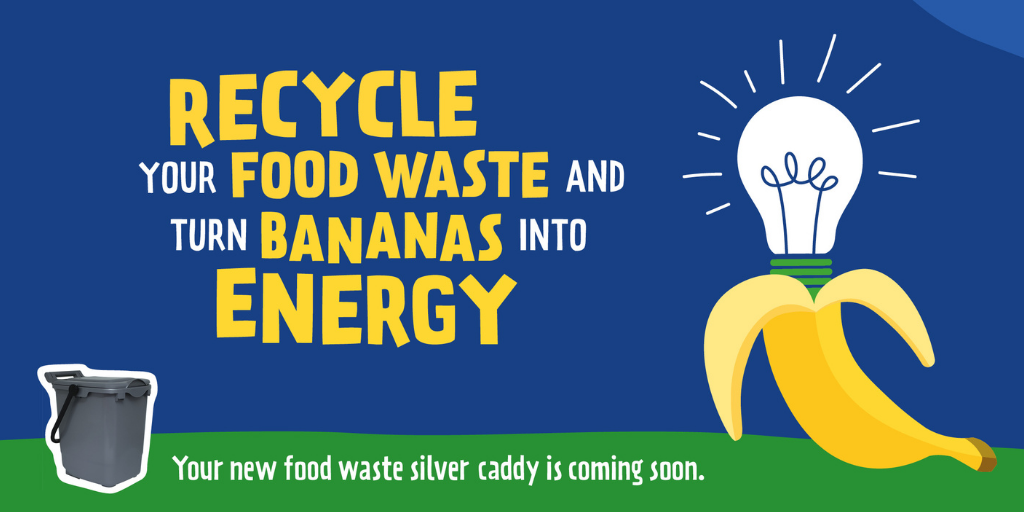 You can expect delivery of your new silver food caddy in the coming weeks.
From 1 March, we will be collecting food waste from the kerbside once a week instead of fortnightly. New 23-litre outdoor food waste caddies are being delivered across the district in phases. You will be notified of your delivery date by a hanger fixed to your bin handle.
We want to improve our overall recycling rate, which is currently 55 per cent, so recycling more food waste is a key target. Currently, as much as a three quarters of residents' food waste is going into the residual waste bin.
Although their silver caddies may arrive well in advance of the start date, people are advised that the weekly collections will not begin until 1 March. You can check your silver food waste caddy delivery date at cherwell.gov.uk/caddydates
---
Where will your food waste end up?
The food waste will, from March, be treated in a different way to the garden waste. It will go to an anaerobic digestion plant in Cassington, where it will produce clean methane that is burnt to create a clean source of electricity, and fed into the national grid. As a by-product of this a rich liquid fertilizer is then produced.
Electricity generated by food waste collected from Cherwell households could run 9,000 fridge-freezers, or power a TV in every household in the district for 15 hours a week.
The 'digestate,' or liquid fertilizer, produced by people's food waste will be distributed to local famers and can replace petrochemical fertilizers.
---
Garden waste reminder
The brown bin will be changing to a chargeable service, to be used for garden waste only, from 1 March. So far, more than 11,000 people have subscribed.
Registration is now open and people will be charged £36 for their first annual subscription licence if they sign up before 28 February 2022.